DOSP01 – INVISIBLE PAIR OF HANDS – Me and The Piggies / Slinky 7″. Aug 2002
.rasberry flavor single featuring 'me and the piggies' and 'slinky', two songs from the forthcoming LP hopefully to be finished.
DOCD02 – gEORGE cLARIDGE – Given Things. 2001.
First Solo LP from this fine song craftsman from ME
DOCD03 – MORNINGSTAR – The Opposite Is True. Nov 2004.
3rd album from morningstar
DOSP04 – SPLIT SINGLE 7″. kate stables, jimmy goodrich, darren swindells and morningstar. Feb 2005.
One song each from "The Four Shores" ie: Kate Stables / Jimmy Goodrich / Darren Swindells and Jesse MorningStar
DOLP05 – LIFTMEN cd – Ponds of Beauty / Ponds Of terror 2005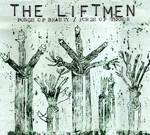 DOSP06 – LIFTMEN 7″ – Meatraffle / Backwards. 2006
heavy thick vinyl with hand printed covers available in black, red, green, blue and varients.
DOCD07 – THIS IS THE KIT cd – where it lives

2006. Home recordings by Kate, mostly from when she first moved to Paris in 2005. Many of the songs were rerecorded for Krulle Bol the folowing year.
DOLP08 – THIS IS THE KIT lp – Krülle Bol jan 2008.
12″ black vinyl, 500 copies, hand numbered
DOCD09 – THIS IS THE KIT CD – Last Of The Secret Fish Eaters -2008.

home recorded instrumentals from 2001.
DOLP10 – THIS IS THE KIT CD- sing a laugh a cry alongs oct 2008. flymsy
DOCD11 – MORNINGSTAR – best covers – recorded in studio and live between 2002 – 2006 .
DOCD12 – Liftmen – Axylotl (2006)
DOCD13 Morning Star – A sign For The Stranger – LP
DOCD14 This Is The Kit – Wriggle Out The Restless Remixes 2011
DOCD15 This Is The Kit – Wriggle Out The Restless
DOEP16 This Is The Kit – EP
DOLP17 -Praise Space Electric – LP (1991) – originally Pop God records
DOLP18- Moonflowers – Hash Smits LP (1991) – originally Pop God records
DOLP19 Moonflowers – From Whales to Jupiter and Beyond the Stars to Rainbohemia LP (1993) – originally Pop God records
DOLP20 – Moonflowers – Colours and Sounds LP (1994) – originally Pop God records
DOLP21 – Moonflowers – Brainwashing And Heartists Blue Life Stripes
DOLP22 – Moonflowers – Don't Just Sit There, Fly! (1997) – originally Pop God records
DOLP23 – Moonflowers – Dirty and Lost LP (eps compilation 2003)
DOLP24 – Invisible Pair Of Hands LP (1997) – originally Cup Of Tea records
DOLP25 – Invisible Pair Of Hands – Head Spread (2003) previously unreleased
DOLP26 – Solar Mumuns – Broken Waters LP
DOCD27 wriggle remixes and album combined 2011
DOLP28 – '44' a collection of the songs of sean O'Neill 2011
DOCD030 Blake Rumfitt
DOCD031 Moonflowers Out To Space/  compilation
DOCD032 Having Fun With The Moonflowers / compilation
DOCD033 Dirty and Lost/ Moonflowers / compilation
DOCD035 Andy Skellam/ Green Moat
DOCD036 Fantasy Orchestra – The Bear And Other Stories
DOLP037 B-FAX – B-Fax
"Album of the Issue. A work of stunning maturity… one of the most fully realised albums to come out of Bristol. 4/5." VENUE
"Focused and refreshing… there is a haunting quality and mystery to this music. Morning Star are really something quite special. 4/5." THE BIG ISSUE £11
in all this sleep'98lp/cd soulful lamentations, daylight samba and intercity blues reviews track listing £10
where is my lover ep'99cd featuring that songs and two counrty ones- 'tennessee waltz' and 'going to meet my darling'£3.50 dance with you'987"released in japan, including postcards and a paper badge!.
featuring the jazz samba 'dance with you' and a
rainbohemians crunchy groove 'biscuits in bed' track listing£4
live compilation
2000/ 2001'02CDRa live compilation featuring about 6 different lineups of morningstar including full smallorchestra and solo performances. guest appearences from the likes of the invisible hands, keepers of the fire choir, patrick duff, pete judge, posh pete and countless talented and beautiful individuals.
songs taken from within and without all morningstar recordings including the as yet unreleased 3rd album£7
broken waters
'00
cd
gentle future folk with electric tribal rhythms and pure heartfire and soulstatic, put together by gypsy sun cross in a gigantic battle with computers who almost slay him in the manner of a new myth.
This lp is essential colours and sounds listening: Poems, hymns and anthems for the spiritual health and entertainment of life forms (including doomed youth) ………..Uplifting
£9
| | | | | | |
| --- | --- | --- | --- | --- | --- |
| | chance encounters | '00 | cd | 5 years of downtime jamming and earthy psycadelia mixed with computers brings you this dislexic lp from the keepers of the fire | £9 |
| | | | | | |
| --- | --- | --- | --- | --- | --- |
| | Me & the piggies 7″ | 2002 | 7″ | rasberry flavor single featuring 'me and the piggies' and 'slinky', two songs from the forthcoming LP hopefully to be finished in 2003 | |
| | disparation | '97 | cd | 'the spirit of the moonflowers lives on, this time with bigger beats and better punchlines. You've really got to hand it to these hands' stephan dalton, Venue magazine '98 | £8 |
| | live hands 1997 | 02 | cdr | just realised how good this band is live so heres a cd of live highlights the last time they were spotted, gonna be in the area again soon too… | £5 |
| | headspread – invisible jams | '00 | cd | scrapings, bits, jams, electronica (not available – but coming soon) | £X |